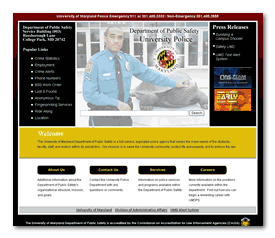 Maryland Web Designers is a web design studio, specializing in web site design, corporate and small business web site design and development, web site hosting, web site marketing, search engine optimization (SEO) & database development.

We can bring you results. We design creative, original, clear, and easy to navigate websites that will enable your corporate or small business web site to stand out over your competition. We offer a wide range of professional web design and search engine marketing services that together can meet all of your web presence needs.


Website design is crucial from the architecture through the actual website design process, implementation and search engine marketing. Our Maryland website design team will take focus on the big picture, staying within your budget, while producing a first class product. We understand web site design from the inside out. We create sites with presence to push the limits of what you have come to expect from the internet. Click here to request a web design proposal>> or call Maryland Web Designers at: 410-404-0663 or 1-.
Maryland Web Designers ~ Web Design News & Articles

Website Design Basics
Maryland Web Designers Contact Info and Location
Office: 410 833 8048
Toll Free: 866.483.5433
25 Crossroads Drive, Suite 320
Owings Mills, Md 21117

| | |
| --- | --- |
| | Website Design: Creative design plus supreme functionality that clearly defines your audience, objectives, and vision using the latest technology in web publishing tools. Innovative, unique, original —these are just some of the words that describe our company logo design, brand logo design, and corporate and brand marketing capabilities. |

| | |
| --- | --- |
| | Website Hosting: Customized maryland web site design solutions that will meet your specific needs. Powering your web site with the best web site hosting solution on the market. Maryland Web Designers Corporation. offers customized Web development and web hosting. Our team of developers will provide you with Internet Solutions that will meet your specific needs. We will power your Web site with the best web hosting solution on the market. If your needs are basic or complex, we will provide the service and skills you need at an affordable price. |

| | |
| --- | --- |
| | Website Marketing: When your site is on the Internet, we will help you with your internet marketing by adding it to online search engines. This will allow potential customers worldwide to find your site. Our expert team will do our best to have you listed effectively on search engines, and make it possible for you to reach customers anywhere in the world. In addition, we will continue to work as your consultants, helping you with internet marketing more effectively and improve your operations. As equally important as having an artistic, easily navigated website is the internet marketing and web promotion that goes into getting your website noticed on the Web and in particular, the Search Engines and Directories. |

| | |
| --- | --- |
| | Website Maintenance: Reliable, consistent, service-oriented web maintenance billed by the quarter hour to keep your expense to a minimum. |

Maryland Web Designers Corporation. provides you everything you need to offer an effective E-commerce Hosting solution. Expand your customer base by supplying your customers a turnkey E-commerce hosting package. With some simple development you can have an E-commerce Web site working for your customer in a matter of days.
Accepting Online Payments

| | |
| --- | --- |
| | Maryland Web Designers Corporation. offers solutions to improve your internal operations, enhance your marketing efforts, and increase your profitability. We offer domain name registration, shared hosting options, virtual hosting options, E-commerce, hosted database solutions, dedicated servers, and more. We offer multiple platforms for you to choose from, and we support a wide selection of Web applications. Our team will work with you to ensure that the solutions we provide are tailored to meet your needs. |

| | |
| --- | --- |
| | As well as hosting your Website we can also offer domain names at reduced prices: Starting at $25 a year (and now as low $10 a year when you register for 10 years at once) you can secure your domain names on the Web TODAY, and "park" it on our servers indefinitely. Even if you do not have a Web site. And for an additional $10/month you can start using your domain names to send and receive your own company e-mail right from your Web browser! |

This plan makes it possible for everyone to have a Web presence. We will make it easy for you to create your own Web page, have your own email account, and establish your online presence. Maryland Web Designers Corporation. will help you from your basic ideas and concept to the finished product.

We'll help you plan your site, and we'll follow your plan through site development. You will be pleased with the price, and we are sure you will be pleased with the product.

At Maryland Web Designers Corporation., we are positive that with the right maryland website design planning, development, and marketing, we will be able to reach your target audience.