Maryland Web Designers Corporation. Testimonials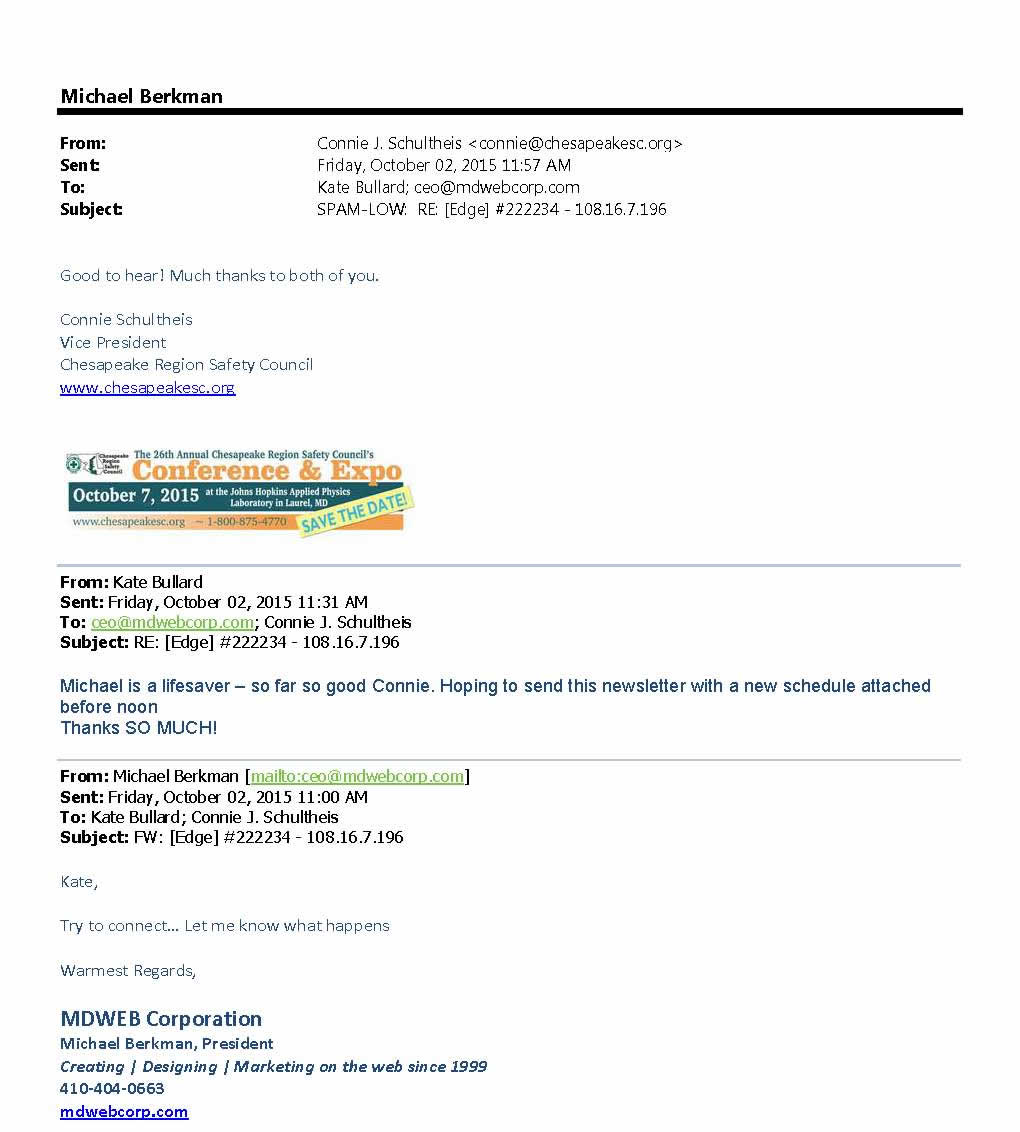 I am honored to write this testimonial regarding Maryland Web Designers' development of my website "pamreavesnellallc.com".  The entire experience in working with you personally has been nothing short of awesome.  In today's busy and competitive marketplace, one does not necessarily expect the President and CEO of a company to be as "hands on" as you were throughout the entire project. Click Here to read the complete review
---
Maryland County Executive
Mike
This is the first time I'm seen the website outside of my blackberry...you did a great job.
Rushern L. Baker, Esq
---
Lennar, Gemcraft & Ryan Homes
Love the website!! It's great, the virtual tour is wonderful! I didn't realize it was up and I was talking to one of the internet leads that I had contacted and they told me the virtual tour was great.
http://plantationlakes.com - Delaware New Homes
---
The University of Maryland College Park - Department of Public Safety
Mike,
Everything looks good. I'm really happy with the progress we've made on the website.
Everything is going well. I'm going to give you a list in 3 parts of all the changes we need to do. The first 2 parts will probably be fairly easy and the last one will take sometime. Let me know when you plan do this first part and I'll inform my users to stay out of contribute.
http://www.umdps.umd.edu/
---
Northern Virginia Apartments
Your excitement is refreshing and contagious!
We are page 1 google this morning (Northern Virginia apartments.) I will have new press release for you on 1st of next week. Please get me pay per click info for region.
Just ran the search and we came in top of page 2! Good job!!!!!!!!!!!!!! I want to discuss pay per click ads.
Louis Siegel, Diversified Investment Group
The Marque 55 - Northern Virginia Apartments & Active Adult Senior Living
---
Maryland Digestive Disease Center
Michael,
I just wanted to let you know how wonderful it is to not have to think about the email service. Since we signed on with you, I have not have people coming to me with their email problems. We have not gone down at all once we were set up The process to get set up was easy to do and you were right there if I had any questions or concerns.
Thank you for all your help. I would definitely recommend you to anyone who is looking for a Web Master.
Martha Rose
Financial Manager
---
Maryland DJ Delightful Wedding, Corporate & Live Entertainment
Dear Mike:

I wanted to drop you a note in reference to an unbelievably big thank you. If not for Maryland Web Designers, I know that my business would simply not be in the position it is in now. Your efforts and services have provided me with an unmatched leading position in my field of work. Your design, thoughtfulness, and experience are the best in the business. I have no hassle maintenance, the site has never been down, and you seem to find the time in your busy schedule to keep me "in the loop" with changes and ideas. In a world of uncertainty, you provide a safe, understandable way to have a piece of the web! You are the best.

Dan Sandys

Dan Sandys / DSEG
MarylandDj.Com
Delightful Wedding, Corporate & Live Entertainment
Columbia, Maryland USA
443-755-0313 / f 0314
---
Camelot Learning
Mike-
It is gorgeous. E-mail me an invoice, and I will have it out right away. I need it via e-mail - I am not in the office until Feb. 23 after a three day business trip to Dallas then off for another two day conference. Too much, but we will certainly shake it all up!!
I think the website is absolutely terrific. Thanks for your input, and attention. Claire may have a date or place to change, but visually and in terms of flow, it is perfect! Jeanne.
Camelot Learning
Mike,
You did an excellent job!
Congratulations and Thank you.
Claire
---
The Lindler Group
Allan wanted me to give you the name and information about MD Web designers.
Mike Berkman at 410 239 2817 is the fellow who owns it. He has done several things for me and is great. I understand you are looking for someone to help get Glass Vials into a more prominent position on the web. He is someone I suggested Al call for another estimate. I think he can do a great job for you.
Let him know I referred you.
Bob
---
Classic Insignia
Dear Maryland Web Designers,

I want to thank you for all your efforts in helping to develop our business. We had consulted with many different online content providers and the entire process was so confusing and frustrating. We are thankful we found you because you provide the best customer support, and our website you designed has already proven invaluable for our business and our customers. I will be sure to tell everyone I meet looking for competent online services about Maryland Web Designers.

Sincerely,

Michael H. Rogers


President, Classic Insignia
---
Auto Collision Specialists
Your awesome and do a fabulous job!
Carey Scilipote
Auto Collision Specialists
---
The Kornblatt Company
I saw them this morning. They are perfect. I meant to call you this morning and tell you, but it has been crazy today. I am just sitting down now to eat lunch. And I am barely getting to eat it. You did a beautiful job. I will get in touch with you next week.
Thanks again.
---
I own a small, home run jewelery business. I needed a website which was aesthetically in sync with my jewelry designs and could catalog my creations in an impressive manner. Maryland Web Designers turned out to be a perfect choice. Not only were they cost effective, but their team was attentive to my instructions and expectations and I am quite happy with the way my website has turned out.
Thomas Winkler,  CA
---
We are a group of consultants who like professionalism to reflect in everything we do. It was natural to expect our website to reflect our efficiency and attitude. Maryland Web Designers were quick to latch on to this need. We are impressed with the depth of their understanding and the quality of the execution they have displayed while creating our website.
Tracy B, Redwood city
---
I want every woman to know and understand the joy of being a woman. My website is more of a blog which is loaded with videos and tips on how to lead a healthy and mentally balanced life. I needed a website which was easy to navigate. Maryland Web Designers had some brilliant suggestions to incorporate in my site. The interactive poll was such a terrific idea! The simplistic yet effective website design is popular with my readers. Overall it has been a very satisfying experience.
Monika P, CA
---
The team of Maryland Web Designers definitely know what they are doing. With minimum instructions they managed to understand exactly what I wanted from my website. Their turnaround time was quick and the changes were incorporated with minimum fuss. I would recommend them to anybody looking to build an efficient and impressive website.
Anna H, NY
---
We had been using the same design for the past five years. One of our oldest customers told them that the complicated navigation and the jaded look was a deterrent for new customers. Maryland Web Designers managed to recreate a new website design for us which retained the benefits of our older look and gave everybody something new to look forward to.
Michelle P, CA
---
Maryland Web Designers are not only cost efficient but also brilliant with their customer support. They never got tired of listening to my expectations from the website and tried their best to match up to it. They were prompt in updating me with the status of the website design and managed to meet the deadlines too! Very rare traits in web designing companies! I would turn to them again for any web solutions I require.
Mira N, FL
---
We run an interactive portal for apparel. It is essential that our website is running smoothly and efficiently at all times. We also need the site to showcase all our products and be easy to maneuver through. This can be a tall demand. But Maryland Web Designers seemed to have no problems meeting them. They were good with the design and navigation of the site. And we have little room for complaints.
Nitai. NY
---
I have been disappointed time and again by web designers claiming to be good at what they do. Everybody is possibly looking for a big fish and have no time for small time clients like me. Everybody except Maryland Web Designers. They did not roll their eyes at this small time artist.  They took the time out and understood my need to showcase my paintings and created an impressive site for me well within my budget.
Dennis, CA
---
We were apprehensive when we hired Maryland Web Designers to design our website. We had a lot of other companies under deliver what they had promised. But Maryland Web Designers proved to be true to their promise. They were true to their timelines and were very efficient with their work. They did not hesitate to mail us with questions to help them develop our website the way we wanted it to. We would recommend them to anybody looking for an impressive and easy to use website.
John A, Oakland
---
Maryland Web Designers developed my website just the way I had envisioned it. I really appreciate the team for sitting down with me and brain storming on ideas. The website is a delight and my visitors have only good things to say about its design! A big thank you to the team!
Susen S, NY