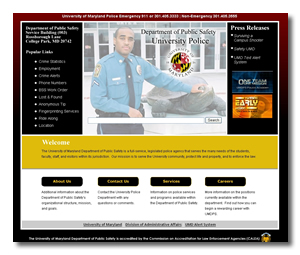 We build web sites that are visually pleasing, architecturally sound, and functionally easy to navigate. We understand the consumer/web user and what web site quality means in terms of attracting customers and keep them there. [View Portfolio]

Your web site represents your company. It's a window in to who you are and what you do. Our web site design team focuses on the big picture, staying within your budget, while producing a first class product that will stand the test of time. In other words, we make it our goal to create a web site that best represents the core of your business in a way that successfully reaches your target audience and inevitably increases your profit.

How do we do this:
We work closely with you to develop the right look and feel for your site.
We design for appearance as well as functionality, making sure the end product is both easy to use and pretty to look at.
We have solid experience with the most popular search engines. We know how to market your web site and which channels to use in order to get you the most exposure.
Finally, we maintain and host your web site with a level of service and quality that won't be beaten. We take pride in the quality of our services and we value you and your goals as our customer.
Our web design portfolio showcases some of our extensive and diverse web sites. We work with you to design a web site that meets all of your needs. Most of all, we take pride in our service-focused attitude and the fact that every web site we designed is truly custom-tailored for each unique business.
Web Site Design by Maryland Web Designers:
Maryland Personal Injury Lawyers

Serving Marylanders since 1970, Waldman, Grossfeld, Appel & Baer, P.A. provides quality, competent and affordable legal representation. Our Maryland Lawyers also offers mediation services, as an alternative method to resolve disputes.

Whether you or a member of your family have been injured in an automobile accident, a work related accident, or as a result of medical malpractice, the attorneys at Waldman, Grossfeld, Appel & Baer, P.A. are there to protect your legal right and assure you just compensation.

If you are facing a divorce, separation, or have issues concerning custody or support, Waldman, Grossfeld, Appel & Baer, P.A. can provide you with quality representation. Should you be facing foreclosure, wage garnishment, or other financial crisis, the WALDMAN, GROSSFELD, APPEL & BAER, P.A have extensive experience representing clients in Chapter 7 and Chapter 13 bankruptcy proceedings.
University of Maryland > Department of Public Safety

The University of Maryland Police Department is a professional law enforcement organization that employs over 100 dedicated men and women. These individuals provide a complete array of law enforcement and related services to our community of approximately 60,000 members, which includes a student population of approximately 32,700.

Our police officers are State certified in accordance with Article 41, Section 4-201 of the Annotated Code of Maryland and have all the same powers and authority as any other sworn police officer in Maryland; each officer is empowered by State law to make arrests, investigate crimes, and carry firearms.
Interstate Health Underwriters, Inc. > Baltimore Health Insurance

Interstate Health Underwriters, Inc. specializes in medical and long term care insurance and offers the most affordable and comprehensive plans in the Maryland market place for individuals and employer groups. We can assist you in designing the proper plan for you, your family, or your firm. For more information, call Interstate Health Underwriters, Inc. at 410-484-2544 or toll-free at 1-800-345-2910.
The Great Cookie > Gourmet Cookies

In 1979 in the small beach resort of Ocean City, Maryland The Great Cookie opened its doors for the first time. The delicious aroma drew vacationers off of the beach and into the store! The most popular cookie by far was the Snickerdoodle, a old-time recipe perfected by The Great Cookie.
Azrael, Gann & Franz, LLP > Personal Injury Lawyers

Azrael, Gann & Franz, LLP concentrates in personal injury and commercial litigation and business transactions. The firm, established in 1949, has achieved a prominent reputation in the field of complex injury/wrongful death, including airline crash litigation, assuming a lead role in multi-district litigation.
Birchwood Capital Partners

Birchwood Capital Partners is a real estate investment and advisory firm. We deliver strong financial and operational skills to every project in which we engage and value the relationships we build while bringing those projects to fruition. Birchwood Capital Partners' principals have a successful track record that spans 20+ years in dealing effectively and efficiently with all facets of commercial real estate. With extensive experience in acquisitions, development, finance, construction, leasing, and property management across all product types, Birchwood Capital Partners has the expertise to evaluate opportunities efficiently and to identify and execute effective solutions.



The Marque at Heritage Hunt > Northern Virginia Apartments

Welcome to Northern Virginia's first luxury active adult rental community. Serenely nestled in a wooded enclave, The Marque at Heritage Hunt is located just off I-66 and Rte 29 in affluent and booming Gainesville at the entrance to Heritage Hunt.
The Maryland Community Action Partnership

The Maryland Community Action Partnership (MCAP) is a nonprofit,association that advocates on behalf of Maryland's low-income families to ensure their voice is heard at the local,state and national levels. In addition MCAP supports the mission and activities of Community Action Agencies throughout the state.

The State Association is composed of 16 community action agencies 13 of which provide direct human services and three (3) are governmental agencies,together they work to lead families to self-sufficiency and independence of public programs.
3rd Annual Golf Tournament


The American Breast Cancer Foundation's (ABCF) annual golf tournament raises much-needed funds to help the organization provide life saving tests to those in need. The event includes:

Breakfast
Refreshments at the turn
A luncheon reception
A silent auction

At our most recent tournament in September 2012, we proudly featured a hole-in-one BMW, generously provided by BMW of Towson, and made over $50,000!
We are pleased to announce that all of our designs are original, we do not use templates and we do not repeat designs.