Search Engine Marketing
Search engine marketing, (SEM), is a form of Internet marketing that seeks to promote websites by increasing their visibility in search engine result pages (SERPs) through the use of paid placement, contextual advertising, and paid inclusion. Depending on the context, SEM can be an umbrella term for various means of marketing a website including SEO, or it may contrast with SEO, focusing on just paid components.
Search Engine Optimization
Search engine optimization (SEO) "optimizes" website content to achieve a higher ranking in search results, for example, by incorporating specific keywords or links associated with the website.
Organic Search Engine Marketing: The new digital mantra for marketing managers
In the digital age, search engine marketing has become indispensable to brands and their products. The idea of the brand or product showing on top of the results page generated by a search engine, in the form of advertisements and paid inclusions, definitely makes the brand, service or product more visible.
What is Organic Search Engine Marketing?
There are two ways to approach Search Engine Marketing. One way is to pay a digital company specializing in search engine optimizations and search engine marketing to place your ad on the results page of a generated search. The other way is the natural way or the organic way.

In Organic Search Engine Marketing, you don't have to pay to place your brand, service or product on the result page. Owing to the SEO tools, by ways of strategically placing relevant keywords, the link to your page shows up in a natural search as one of the top ten pages in the search category.
Advantages of organic search engine marketing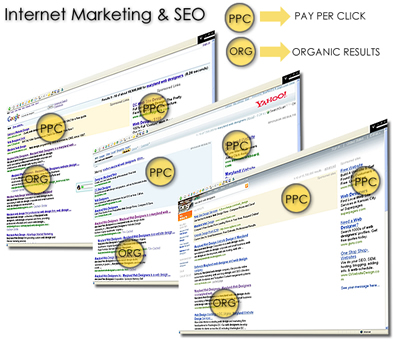 Is paid search engine marketing or search engine marketing via sponsored ads a better option than your web link showing up in an organic listing relevant to the search of keywords related to your webpage?
Statistics show that web users, more or less, assume that a sponsored ad is going to lead to a paid site or an expensive site and hence do not click on it
Viewers are more likely to click on one or most of the first ten pages showing up in an organic list for the search of relevant keywords
70% of the search engines report that web links shown in an organic listing are visited daily by viewers. This means that when your web page shows up in an organic listing you have the potential to attract consumers to your web page daily
50% of the people using the search engine tend to reflexively focus on the top search results and more often than not do not even notice the content of the sponsor ads on the left hand side
72.3% Google users have reported that results generated in their organic listings are more relevant to their searches than the sponsored ads
The overall conversion rates of results shown in an organic listing are three times higher than those of sponsor ads or links
The truth is viewers would tend to click on a sponsor ad because the content is gripping. It is sheer curiosity which leads a viewer to chase a paid presence. The conversion of a viewer who has landed on your web page out of sheer curiosity into a potential customer is 1 in a 100.

When a viewer clicks on the search result of an organic listing, he or she wants to visit that page because it is relevant to their search. They are drawn to your web page because they feel you have what they seek. The chances of converting such a viewer into a client are definitely higher.
Search Engine Marketing
Maryland Web Designer's understands that Search Engines are the #1 way people find websites. They account for virtually 90% of all the traffic your website receives . Our competitive and aggressive internet marketing strategy uses all of the popular online search engines including:Google, Yahoo, Infoseek, Altavista, Lycos Hotbot, Excite, Webcrawler, Northern Light, Inktomi, Direct Hit, AOL, as well as, many of the smaller search engines and local websites.
---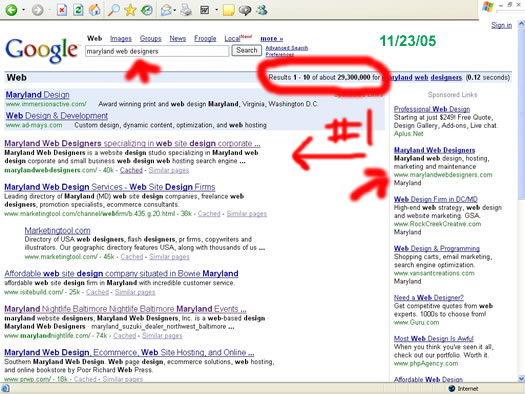 | | |
| --- | --- |
| | 1000 Individual links to any page on your web site. |
| | Monthly Search Engine Submissions to hundreds of relevant sites, depending on placement. |
| | A FREE Web Site Evaluation. |
| | Inclusion in Google SiteMaps Program (BETA). |
| | Monthly Reporting. |
| | One Hour of Search Engine Optimization per month. |
| | Management of any Pay Per Click Programs. |
We get results: Yes, it's important to have an artistic, easy-to-navigate website. But equally important, is the marketing and web promotion that goes along with getting your website noticed by your target audience.
Considerable opportunity exists for businesses of all types and sizes to take advantage of unpopulated, cost-effective, and highly-targeted local Internet marketing solutions, as well as the larger Search Engines and Directories. Maryland Web Designers can successfully market your website and get you results.