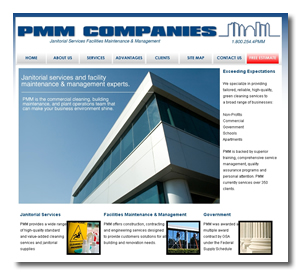 We build web sites that are visually pleasing, architecturally sound, and functionally easy to navigate. We understand the consumer/web user and what web site quality means in terms of attracting customers and keep them there. [View Portfolio]

Your web site represents your company. It's a window in to who you are and what you do. Our web site design team focuses on the big picture, staying within your budget, while producing a first class product that will stand the test of time. In other words, we make it our goal to create a web site that best represents the core of your business in a way that successfully reaches your target audience and inevitably increases your profit.

How do we do this:
We work closely with you to develop the right look and feel for your site.
We design for appearance as well as functionality, making sure the end product is both easy to use and pretty to look at.
We have solid experience with the most popular search engines. We know how to market your web site and which channels to use in order to get you the most exposure.
Finally, we maintain and host your web site with a level of service and quality that won't be beaten. We take pride in the quality of our services and we value you and your goals as our customer.
Our web design portfolio showcases some of our extensive and diverse web sites. We work with you to design a web site that meets all of your needs. Most of all, we take pride in our service-focused attitude and the fact that every web site we designed is truly custom-tailored for each unique business.
Web Site Design by Maryland Web Designers:
Ross, Marsh & Foster

RMF has both a federal and regional law practice. Our offices are located in Washington, D.C. Through the years Ross, Marsh & Foster has consistently developed its capabilities and practice specialties in response to clients' needs. Today, we provide counseling and litigation services in business law, estate and trust planning and administration, real estate, taxation, and tax-exempt organizations. Our clients, located in the U.S. and several foreign countries, include large and small corporations, ranging from start-up ventures; partnerships; limited liability entities; individuals; estates and trusts; tax-exempt and non-profit organizations, including foundations and associations; and governmental bodies.
Baltimore Bail Bonds > Central Booking

1% Down, Easy Payment Plans, Serving Maryland For Over 55 Years 410-727-BAIL (2245). No one expects to be arrested so when such incidents occur, it can financially burden your friends and family. For this reason Kimmelman-Shuman offers down payments on bonds as low as one percent (1%) and easy payment plans for approved applicants.
Raintree Thoroughbred Farm

The thoroughbred industry is one of the most exciting investments available. It is unique in that there are numerous opportunities for investment, including, breeding, purchase and resale, and racing.
Deer Park Ironworks LLC


At Deer Park™, we are committed in continuing our tradition of creating timeless designs with the highest quality standards at the best prices possible. As always, we will do our utmost to keep you satisfied with our prompt customer service and support. All of our products have a durable, powder-coated finish. Our products' Natural Patina Appearance nicely complements any dècor or color scheme. Decorative baskets, wall planters and window boxes come complete with fitted coco fiber liners which is a natural product providing proper drainage and a healthy environment for your plants to grow.

Patriot Mortgage Corporation Serving MD, VA, DC


Patriot Mortgage Corporation offers excellent mortgage loans to homeowners and home buyers in Maryland, Washington DC and Virginia. We are proud to provide some of the lowest mortgage rates available, as well as, a wide variety of other loan programs Patriot Mortgage Corporation loans can be used to purchase a new home or for refinancing. To learn more call (888) 608 - 9099

TEC Services, Inc.

We have extensive knowledge of the above mentioned photometers and will provide prompt and efficient service. The turnaround time for standard calibrations has been 2 days or less since we began calibrating photometers over 10 years ago.
Maryland Hydronics

Bay Hydronics, Inc. began with the vision of becoming a manufacturer's representative agency that worked hard to support both wholesalers and contractors. With over 60 years of experience and accumulated knowledge in all aspects of the trade - manufacturer's representative, wholesalers, and contracting - Bay Hydronics has an edge on understanding everyone's needs.
PMM Companies

PMM Companies (PMM) is more than just a janitorial service to clean your facility. We are active participants in your businesses and communities and strive to be your partner. Our corporate philosophy serves as the foundation upon which our company is built. As a family-owned and operated company for over 30 years, the values of respect, integrity, service and excellence remain the core beliefs of all divisions within PMM.
We are pleased to announce that all of our designs are original, we do not use templates and we do not repeat designs.